About Us
About Urban
Wildlife Control Inc.
Urban Wildlife Control Inc was founded in 2005 to provide humane solutions for wildlife problems. Our methods are designed to fit your situation and our removal procedures work with the seasonal biology and life-stages of the animal. This ensures a safe and humane removal, reduces animal stress, and minimizes property damage. At Urban Wildlife Control Inc we believe that "hands-on" removal techniques are most effective when coupled with our proven prevention program.
The Usual Suspects
See below for a list of wildlife suspects we typically work with. If you find yourself dealing with one of these creatures, we can definitely help get things under control. Contact us for more information.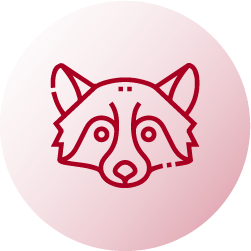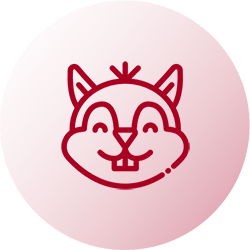 Typical Problems
We Solve
Your Problems
If you discover an animal inside your home, the first thing you should do is give it an opportunity to leave on its own. In most cases, the animal is there as a result of a wrong turn and just wants a way out. Simply opening a door or window to the outside will solve most situations. In some cases, stressed animals will find a secure place to hide, and in these cases, it is best to have professional help.
If you are experiencing a wildlife emergency, please call Urban Wildlife Control Inc. at:
Phone: 519-888-7828
Toll Free: 877-UWC-WILD (877-892-9453)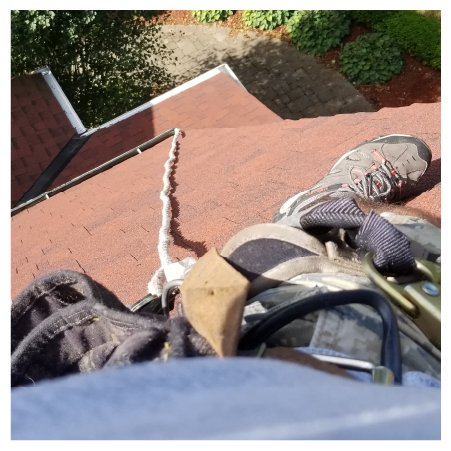 Our 4 Step Process
How We Remove Wildlife Animals
Inspect
Complete exterior inspection to identify all existing entry points and potential problem areas.
Plan
Develop a plan for humane hands-on removal, if necessary or use of one-way door. Present you with a written proposal to solve.
Remove
Begin humane eviction process and install wildlife-proofing hardware.
Final Inspection
Final follow-up inspection and removal of one-way door.
Make An Appointment
Get In Touch
Yesterday we had a family of raccoons living in our eaves and today we don't.
Thanks to Keith Pothier of Urban Wildlife Control the problem was taken care of quickly and most importantly humanely.
Keith was great to deal with–professional, efficient and extremely knowledgeable.
I would highly recommend him if you are in need of critter removal.
Ann Detar
Keith went the extra mile and beyond in every possible way. He saved us more than half what was on an extremely expensive and predatory quote from another service. Readily available and professional, he did not cut any corners and did the full inspection. He took the time to answer all of my questions and was open about every step of the process. Our issue was 100% taken care of, and while I hope I don't need wildlife control again, at least I know there is someone in the area that is 100% worth every penny.
JOstrumable
We had Keith come and get rid of our bat and raccoon problem last year . On my request , we had him come back to check our home again this year. There were still no longer bats and raccoons .
We found Keith to knowledgeable , efficient , fair in price , friendly , show up when he said he would be here , careful and I felt honest.
Janice Johnston
I'm so impressed by Keith's work! He did the work so professionally with a lot patience. Not only he fixed the animal problem for my house, also he fixed other potential problems like caulking windows for me because he has high ladders. Most of guys are rushing to get work done at your house and head to next customer. But Keith did work with perfectionism because he loves this job.
Baosheng Li
I used Urban Wildlife 2 years ago for a squirrel problem and they promptly came and PROPERLY covered my vents. They responded with 2 days and did the work right away within that week. I recently had to call them again for a bat problem. They responded the next day and walked through the process with me including a detailed quote, just as they did with the squirrel problem. In both cases, other companies I called weren't able to respond for about a week. Keith walked me through the why behind the what he was doing and his pricing was more than fair for my piece of mind and high quality work. My neighbours have also used Urban Wildlife and were just as pleased as I was. I would highly recommend this company. They are personable, knowledgeable, and professional. Many thanks to you Keith for exceeding my expectations as a customer!
Dee Cuso
Keith is great! We had a nest of raccoons in our attic last year. Other companies were doom and gloom about it, made it sound complicated. Keith said no problem. He resolved the situation quickly and happily. This year we had an unrelated raccoon issue. He stopped by and helped us on his way to another call. Only took a few minutes and he did it free of charge. Would highly recommend.
Devin Smith
A year ago we had some problems with mice and bats. We called to Urban Wildlife Control, and the service was phenomenal. We were serviced by Keith. 2 weeks ago we called again to Keith because we thought the problem reoccurred. Within 24 hours he responded and made his way to our house he checked everything to ensure that there was no problem. At the end of the inspection he concluded that there was no problem and even told us that there was no charge for the inspection. Thank you for the excellent service.
Michael Safro
Urban Wildlife Control provided us excellent service for our raccoon removal. We called a couple companies and some were more expensive or were not comfortable with the job. Urban Wildlife Control were affordable, timely, and efficient with the work. They were able to remove two sets of litters from our attic and re-unite them with the mother raccoon. I messaged on a Saturday about more sounds that we were hearing in the attic and Urban Wildlife Control was on route within an hour. They came to the house more than a handful of times, they secured the area so no further animals would come into the attic, and they provided a 5-year guarantee. Thanks Urban Wildlife Control for your exceptional work 🙂
Justin Wilson
I have used Urban Wildlife twice. Once for bats and once for squirrels. Keith is very fast in responding and very knowledgeable about wildlife removal. Prices are affordable. Had I known about them sooner, I would have had them over to help – vs living with bats for so long!!! Have recommended them to several friends and family and will continue to do so.
Jess Dunlop
We called Urban Wildlife Control regarding scurrying noises in our attic. Keith responded quickly and identified the problem as a raccoon entering under the eaves. He installed a one way door which the racoon used on the first night.
Keith followed up for about a week to make sure there were no more noises and then sealed off both areas on our roof where animals could enter.
Terrific service! Keith knows his stuff and gets the job done.. with a smile.
Steve Bolton
Great experience. Keith responded to my voicemail promptly, was able to visit the next day and conduct an inspection and solve my raccoon issue. Would happily recommend to anyone experiencing wildlife issues.
Jordan S
A racoon broke into our attic. I called around and Keith was quick to respond and come out within 24 hours, whereas others wanted 2 – 3 days notice.
Keith answered all our questions and explained the entire process before starting. He carefully removed the racoon babies and closed the gap. He also sealed up other entry points in our roof to prevent this from happening again. Keith came for three days to make sure the racoon was gone, and everything was in order.
Keith is a true professional, and I wholeheartedly endorse him and Urban Wildlife.
Mamoon Ali